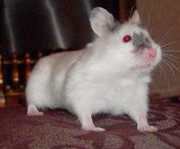 Daisy
Daisy is my own female hamster that my mum bought for me on the 9th of May from
Chrysalis Pets in Buckley. She was about 8 weeks old, And was a golden banded satin domspot. Mum already had a cage, bedding sawdust etc. But Daisy had not been
handled so that was a job for me. When she trusted that, being held was not that bad.
I entered her into the Northern Hamster Club pet class and hamster race on the 25th of
May at Lymm. She came third in pet class and won a rosette, certificate and treats but wasn't
so lucky in the race. She won her first race but unfortunately turned around in the tube on the
second race, otherwise she would won, honestly.

The Escape
One morning my mum woke me up with this greeting "The hamsters got out! I cant find her!"
So I got up and searched for my hamster. I thought "Daisy where the hell are you?" Then my brother
comes running down stairs shouting "mum something is scratching in the bath room!" So me and mum
run upstairs and go into the bath room, open the cupboard, she's not there! Then mum says "she's inside the bath"
then she goes downstairs to get a screwdriver so she could get her out of the bath. Me and her start talking
about it and Daisy heard us and walked straight out of her hiding place under the bath. So we took her down stairs,
put her in her cage and as soon as we put her in she fills up her pouches and looks for her escape root. It was
funny and annoying at the same time but I said to her "you are not getting out again!"

Daisy's Litters
Since I wrote the last two paragraphs Daisy has had two litters one with fourteen pups in it and another with four in it.
In the litter with fourteen babies eleven out of fourteen survived. In the other all four of the pups survived.

Daisy was bred to a golden we knew to be carrying black called Midas and this is what came out : there were
six boys and five girls (I think, it could be the other way round) here are the colours she had 1 Black (female)
,2 Black Domspots (both females), Three golden bandids one of which was satin (all males),2 Golden banded satin
domspots or mini daisys for short (both males),and 3 goldens (2 females and one male). Out of this litter we kept three,
one of the black domspots, the black and the satin golden banded. The black we named Ebony the Domspot we
called Dotcom. And we called the golden banded satin Dash. These babies were born on the 18/08/08 and have done well in shows.

The next litter Daisy had was with a yellow hamster called Torn who we borrowed from another reliable breeder.
Torn was very old and had never been a father before. There was as I say four babies off this litter.
There were two males and two females the females were both yellow torts with golden and the males were
both golden. We kept both the girls in this litter Mum and I had one each mine's called Twilight and Mums is called
Cookie. This litter was born on the 12/02/09.

Sadly Daisy died on the 18/12/09 and will be very sadly missed.

1